What's New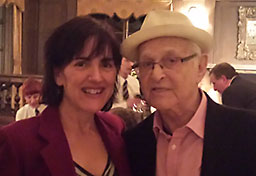 Managing Director Ellen Pasternack with legendary writer-producer/activist/philanthropist and SBT major donor Norman Lear, at a dinner in Santa Barbara celebrating the release of his wonderful autobiography, "Even This I Get to Experience."
SBT Founders Ellen Pasternack and Albert Ihde were guests of Norman Lear's at a fundraiser for Antioch College at the Music Academy of the West on March 6.
Mr. Lear produced such landmark television shows as All in the Family, Good Times, Maude, The Jeffersons, and Mary Hartman, Mary Hartman. In one season he had nine shows on the air, four of them rated in the Nielsen top ten. His memoir, "Even This I Get to Experience", is enthralling, entertaining, and jam-packed with amazing stories from his childhood and decades of work with top talent from the worlds of entertainment and politics. We recommend it highly.
Norman Lear is also one of our most cherished donors. We thank all of our donors for making SBT possible.
We were delighted to attend this event as Norman's guests, and were absolutely thrilled to find ourselves seated at his table with legendary songwriters Alan and Marilyn Bergman, State Senator Hannah-Beth Jackson and philanthropist Lillian Lovelace.

Congratulations to everyone in SBT's production of OUR TOWN who was recognized with a 2010 Indy Award:
John Blondell – Direction
Miller James – Costumes
Theodore Michael Dolas – Lighting Design
Brian Harwell – Acting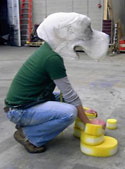 « Nana Dog: Read all about Rose Brown, Utah Opera's Costume Director, created the dog costume for SBT's production of PETER PAN on the Utah Opera Blog.
PETER PAN Preview in the Los Angeles Times, December 14, 2008

PETER PAN Podcast: Albert Ihde and Ellen Pasternack interviewed on Classical KUSC radio's on Arts Alive, Week of December 13, 2008. Or click to listen to the live stream mp3 version.

The Leonard Bernstein newsletter, Prelude, Fugue & Riffs, features two articles in it's Spring/Summer 2009 issue on SBT's production of PETER PAN: Leonard Bernstein's Peter Pan Flies Again in Santa Barbara by Albert Ihde and More Peter Pan by Alexander Frey.