SBT's Past Productions
The 2008-2009 Santa Barbara Theatre Season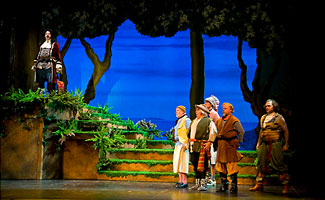 PETER PAN
"Irresistible"
"The enjoyable Santa Barbara production, directed by Albert Ihde, is a labor of love on a lot of levels, and as with many such labors, the good stuff is irresistible... The flying was fun and well done. Gary Wissman's sets represented an old-fashioned children's world. ...this Peter Pan warmly and significantly fills in what is presumably the only musical gap in the best documented career in classical music. How could we have been so foolish to have thought that any aspect of Bernstein's output is worth ignoring?" —Mark Swed, Los Angeles Times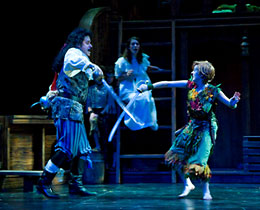 "Triumph"
"Santa Barbara has been blessed with three new holiday theatrical productions. SBT's Albert Ihde's Peter Pan is the true triumph of the trilogy. ...And the true wonder is the chance to hear live the amazing score and songs by Leonard Bernstein previously lost to history for nearly half a century. The music alone is worh the price of admission." —Steven Libowitz, Santa Barbara Daily Sound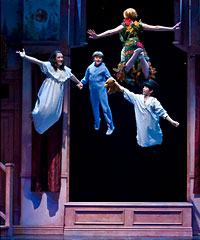 "An Ideal Peter Pan"
"In addition to the full Bernstein score, Santa Barbara Theatre's production is bolstered by a dozen Actors' Equity members; a crew of child actors who actually act like kids and fly the way they would if they could; and handsome sets, whimsical costumes and special effects that amplify the character of Barrie's fantasy. ...Above all, there's the sense that the story is told the way Barrie would have appreciated, with Bernstein's music adding spice to the magical potion." —Rita Moran, Ventura County Star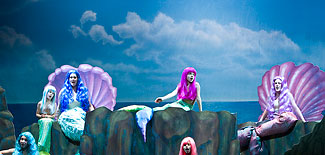 "Delightful!"
"...this PETER PAN is pleasing for all ages... All the sets deserve a round of applause."
—Ted Mills, Santa Barbara News-Press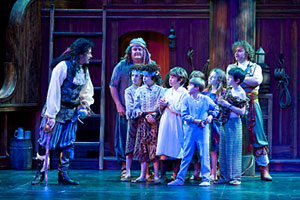 Photos by David Bazemore
Sarah Bierstock, Wendy Darling
Sarah has performed across the US and back in numerous National Tours (Alice in ALICE IN WONDERLAND, Laura in LITTLE HOUSE ON THE PRAIRIE/LAURA INGALLS WILDER, Martha Jefferson in LEWIS AND CLARKE). Sarah is an alumna of New York University and has had the privilege of studying with vocal greats Marni Nixon, Judy Blazer, and Michael Lavine.
Corina Boettger, Peter Pan
Corina began her theatrical career at age 7 playing an Evil Monkey in THE WIZARD OF OZ. More recently, she appeared as "The Red Haired Girl" in AKEELAH AND THE BEE and guest starred on MY NAME IS EARL.
Robert Yacko, Captain Hook and Mr. Darling
Robert is a veteran actor/singer who was George in the original Los Angeles production of SUNDAY IN THE PARK WITH GEORGE. He was featured in last summer's revival of CAN CAN at the Pasadena Playhouse, and starred opposite Cathy Rigby in SYLVIA at La Mirada Theatre last fall.
Carolyn Hennesy, Mrs. Darling
Carolyn is an Ovation Award-winning actress, trapeze artist, children's book author and currently appears on GENERAL HOSPITAL as Diane Miller, mob lawyer.
Albert Ihde, Director
Last season, Albert staged SBT's original revue A Magical Musical Tour: 103 Years of the Songs of Peter Pan at the Lobero Theatre. Prior to co-founding SBT in February of 2005, he was the Executive Director of the Ensemble Theatre Company, where he was instrumental in negotiating a stabilization grant that wiped out $450,000 of that company's accumulated deficit.
Albert was the Producing Director of StageWest in Springfield, MA, a 476-seat LORT C regional theatre where he produced 23 productions. At StageWest, Albert directed Some Enchanted Evening, Angel Street, Nora (Ingmar Bergman's adaptaion of A Doll's House) and Camping with Henry and Tom.
In Woodstock, NY, Albert was the Producing Director of River Arts Repertory where he directed The Voice of the Prairie and The Second Shepherds Play, and produced the American Premiere of Edward Albee's Three Tall Women, starring Marian Seldes, Myra Carter and Jordan Baker.
In Los Angeles, Albert received a Drama-Logue Award for his direction of the Bertolt Brecht/Kurt Weill musical Happy End. In Washington, D.C., he adapted and directed the World Premiere theatrical production of Tom Stoppard's Albert's Bridge.
In addition to this work in theatre, Albert has worked in the film industry. Bluegrass Country Soul, which he produced and directed, starred Earl Scruggs, Ralph Stanley, Roy Acuff and many others. It was released on DVD by Time/Life Music in 2007. Albert directed The Sun Dagger, narrated by Robert Redford, which has appeared on PBS, Arts & Entertainment and Bravo. He also produced five one-hour specials for A&E titled Reno's Cabaret Reunion, starring Peter Allen, Barbara Cook, Andrea Marcovicci, Karen Akers, Janis Ian, and many others. He also produced the bonus extras on the DVD's of such films as Cast Away, Dancer in the Dark, Gettysburg, State and Main, Rocky (25th Anniversary), and a slew of John Waters' films.
Ellen Pasternack, Producer
Ellen has over twenty years of experience in arts administration and production. Previously, she served as the Director of Communication and General Manager for the Ensemble Theatre Company of Santa Barbara (ETC), where she oversaw marketing and publicity, financial, benefit, facility and front-of-house administration. Ellen was the Managing Director for the Santa Barbara Festival Ballet, where she retired a multi-year debt in her first year. She also inspired and created successful group sales departments for both ETC and the Santa Barbara Civic Light Opera. Ellen has worked as a Box Office Manager, House Manager, Company Manager, Marketing Director and Equity Production Stage Manager. She was the Administrator of the Santa Barbara Performing Arts League for five years, and has served on the Board of Directors and Advisory Board for various performing arts organizations in Santa Barbara. Ellen has also worked in corporate sales, publishing, and retail management.
Alexander Frey, Conductor
Alexander, an American musician and conductor who lives in Berlin, helped arrange and conducted Leonard Bernstein's "lost" PETER PAN score for the critically acclaimed 2005 CD. He is in his third season as Principal Conductor of Italy's Rome Philharmonic Orchestra. As pianist and organist, Alexander performs with many of the world's leading orchestras and conductors.
Carrie Diamond, Choreographer
Carrie began her career in Los Angeles, dancing with the Storie-Crawford Dance Theatre Ensemble. She performed and toured extensively with the New York Theatre Ballet and founded the New American Ballet Ensemble in 1990. She founded Ballet Santa Barbara in 2005. Ms. Diamond holds an MFA in Dance from NYU's Tisch School of the Arts and is a certified teacher for children through DEL (Dance Education Laboratory).
Gary Wissman, Set Designer
Gary is an award-winning set designer based in Los Angeles, and the Technical Director for the Pasadena Playhouse.
Michael Philippi, Light Designer
Michael is a veteran lighting designer based in Baltimore, MD. He was nominated for a Tony Award for his light design of the 50th Anniversary production of DEATH OF A SALESMAN starring Brian Dennehy.
Richard Weiss, Music Director
Richard is currently the Artistic Director of Nevada Opera Theater. He has worked with SBT, Opera Santa Barbara, New York City Ballet, and many other performing arts organizations as a director, vocal coach, and accompanist.
Miller James, Costume Designer
Miller serves as the Resident Costume Designer for Opera Santa Barbara. His designs have been seen at The Ensemble Theatre Company, UCSB, the Santa Barbara, Symphony, Westmont College, and SBT, where he won accolades for their production of DOUBT.
Malcolm Knight
Malcom is the Director of the Scottish Mask and Puppet Museum in Glasgow. He is designing and creating the Rare Never Bird.
Diana Leidel
Diana is an artist based in New York City. She has created the paintings in use for PETER PAN's marketing campaign. Her paintings will also be projected on the show curtain during the narration and scene changes in PETER PAN.